Taking time to put romance in your life using recipes and techniques will pay off. For any celebration of love this list of top 10 must have cookbooks will help you plan and cook romantically and sensually.
1. The New InterCourses: An Aphrodisiac Cookbook
by Martha Hopkins.
Not just functional, this cookbook oozes sexiness. With more than 80 recipes, sex in the kitchen will take on a completely new meaning. This entertaining hardback will get your saliva flowing and your blood boiling.
2. The Seduction Cookbook:Culinary Creations for Lovers
by Diane Brown.
This book offers techniques and recipes that will turn you into a kitchen goddess or god. It will teach you how to set the mood with various finger food starters, sexy entrees and side dishes, lip-smacking desserts and late night snacks.
3. 50 Ways to Feed Your Lover: America's Top Chefs Share Their Recipes an Secrets for Romance

by Janeen A Sarlin & Jennifer Rosenfeld Saltiel.
These American chefs share recipes with you that will help set the right mood for any occasion. The recipes are accompanied by their personal experiences, anecdotes and tips.
4. A Taste for Love: A Romantic Cookbook for Two
by Elizabeth M Harbison and Mary McGowan.
Find something special to get that special someone in the mood with the ideas, menu suggestions and poems offered in this cookbook.
5. Fork Me, Spoon Me: the sensual cookbook

by Amy Reiley.
Cordon-Bleu trained chef and author Amy Reiley, displays her exceptional talents by sharing 40 sensual recipes that will delight any foodie or novice. I really love how Amy explores food aphrodisiacs and how to use them to your advantage in fun and romance.
6. Cooking in the Nude : Playful Gourmets (Cooking in the Nude (Howell))

by Debbie & Stephen Cornwell.
What better than a book full of flirtatious recipes written by a playful couple? Offering recipes with names like Hanky Panky Greens, Exotic Erotic Chicken and Sea Nymph Promise; excessive use of this book has been said to create a lack of sleep. I suggest you reserve this book and the delights within for special occasions.
7. Booty Food: A Date By Date, Nibble by Nibble, Course by Course Guide to Cultivating Love and Passion Through Food
by Jaqui Malouf and Liz Gumbinner.
Offering tempting recipes and sexy humour, this book offers gorgeous romantic advice to keep the passion alive. I love how the recipes cover all stages of relationships; from the frist date to comfy couple bliss.
8. Table For Two: The Cookbook For Couples

by Warren Caterson.
When you are in the mood for something tasty, easy to prepare as a couple, this is the book for you. Covering basic cooking techniques and offering over 200 recipes using fresh ingredients this book will make for many memorable moments.
9.Will Cook For Sex: A Guy's Guide to Cooking

by Rocky Fino.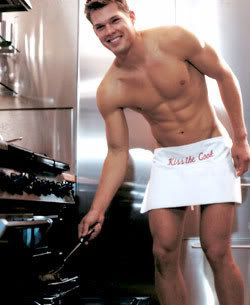 Now Ladies, this is the gift to buy your man! Who loves a man who knows his way around this kitchen? I certainly do! Offering step-by-step photography this book makes cooking a mouth-watering meal easy.
10. Venus in the Kitchen: Or Love's Cookery Book

by Norman Douglas.
Even if some of the exotic ingredients are unappealing to the palate or simply unavailable. Norman delves deeply into aphrodisiacs with sharp humour. This book offers recipes that are entertaining to read and for the foodie at heart worth cooking.