Here we are again, talking chocolate…I can't help it!
Chocolate; it is one of the most popular sweets of all time. Why do we love it so much? Following are a a few reasons why it is so popular and why you shouldn't give it up completely, even if you are trying to shed a few kilos or pounds.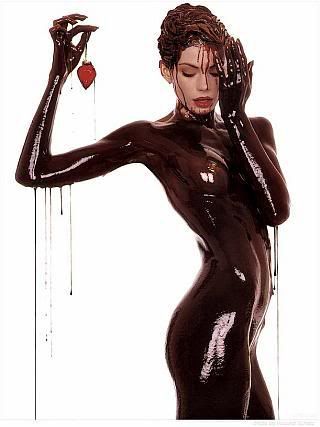 Reason 1: It melts in your mouth and what a sensation that is. We all know that chocolate contains fat and it is the cocoa butter in chocolate which gives it that rich, creamy consistency that also transmits the cocoa's flavour perfectly. Chocolate also has a melting point that is just a bit lower than our average human body temperature, which gives us that "melt-in-your-mouth" feeling every time you indulge in a piece of chocolate. I often describe this feeling as a true moment of ecstasy (well as compared to another).
Reason 2: It's the right chemistry! According to a study completed at the University of Michigan in the United States, chocolate contains chemicals called opioids. Opioids are also found in opium, and they serve to dull pain and give a feeling of wellbeing to people who consume them. According to the study, people who eat chocolate produce natural opiates in their brains which soothe their nerves and make them feel good. Interestingly, when the receptors that detect opioids are blocked the chocolate craving is lessened. I am currently reading a great book right now called the End of Overeating – Taking control of the insatiable American Appetite by David Kessler.
Reason 3: Chocolate naturally contains "uppers" like caffeine, phenylthalymine and sugars; which will make your heart pound a little harder, your breathing quicker and will also give you a feeling of alertness. The effect is not dramatic enough to be uncomfortable in most people; it is actually mild enough to produce a pleasant "high," which is often equated to the feeling of being in love.
Reason 4: Chocolate = love. Women crave chocolate more often than men do and women are also customarily given chocolate as birthday and Valentine's Day gifts. In my culture, chocolate is thought of as a romantic gift – especially one that you can share with that special someone.
Reason 5: Chocolate really is good for you. Recent studies suggest that chocolate; especially dark chocolate, contains chemicals that lower the risk of heart disease and cancer. The flavanoids and antioxidants in dark chocolate have been shown to make a difference in cardiovascular health. Here lies a great reason to indulge occasionally.
Reason 6: Chocolate is great for your sex life. Ever since the time of the Aztecs, people have believed that chocolate has aphrodisiac properties and it is said that there may be some deeper truth to those old legends. Recent studies have shown that women who indulge in a little bit of chocolate everyday have significantly more sex than women who don't. I guess this could be because of the brain-soothing chemicals that are found in chocolate, and chocolate encourages the brain to release more of that chemical as it is eaten. Chocolate just makes us feel good and feeling good is a key ingredient to a healthy sex life.
Don't limit chocolate to just eating it – there are a number of creative ways to use chocolate in the bedroom. Adventurous and playful couples have incorporated it in their sexual play for years. For a sensual treat, make a chocolate fondue and feed your loved one strawberries dipped in the sweet sauce (see a how to prepare this in our archives). Give your loved one some fine chocolates for no reason —I guarantee they will share and show their appreciation later and if you're not afraid to get a little messy why not play with chocolate-flavoured body lotions and lubricants. Even cleaning up afterwards can be fun.
As much as we all love chocolate it is important to remember not to overindulge in it as it does contain high amounts of saturated fats and sugars that can cause health problems and obesity. However, when this delightful treat is eaten in moderate quantities it can be a miracle food.
It really is hard to come across anyone who doesn't like some kind of chocolate, be it white, dark, or milk, Hershey or Belgian. So the next time you have to give up something for Lent or are considering taking up a new diet; think twice before giving up chocolate. Not only does it taste good — its health benefits truly give you a great excuse to keep enjoying it.